TCCN Comics Anthology
The TCCN Comics Anthology is a new publication designed to showcase comics made by creators of all ages and experience levels who live in and around Durham, Orange, and Wake Counties.
Volume 2 is temporarily paused while we reassess our planning approach due to COVID-related changes in library activities, comics festivals, and other factors.  Thank you for your patience!
The Triangle Comics Creator Network is organized by Durham County Library and Chapel Hill Public Library with additional community support. More information about the Network can be found at durhamcomicsfest.org/tccn.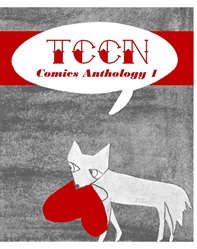 Thank you to the contributors, editors, and many other supporters who made TCCN Comics Anthology 1 a success! Sales are temporarily on hiatus; inquiries may be directed to Patrick Holt at pdholt@dconc.gov.