Now accepting submissions for
TCCN Comics Anthology 2: SHAKESPEARE!
The TCCN Comics Anthology is a new publication designed to showcase comics made by creators of all ages and experience levels who live in and around Durham, Orange, and Wake Counties. Submissions to the anthology are now being accepted! Revised 5/21/20.
The Triangle Comics Creator Network is organized by Durham County Library and Chapel Hill Public Library with additional community support. More information about the Network can be found at durhamcomicsfest.org/tccn.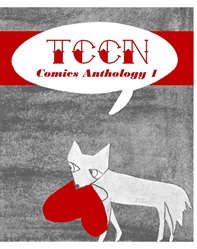 Thank you to the contributors, editors, and many other supporters who made TCCN Comics Anthology 1 a success! Sales are temporarily on hiatus; inquiries may be directed to Patrick Holt at pdholt@dconc.gov.
---
A printer-friendly PDF of the call for entries and guidelines is available here.
A printer-friendly PDF of the submission form is available here.
The information below was published 5/21/20; in the event of revisions, changes will be noted in both web and pdf versions.
DEADLINE FOR SUBMISSIONS IS AUGUST 15, 2020 TBD, pending further COVID-closure details
ABOUT THE THEME
To paraphrase LeTigre, what's yr take on William Shakespeare? Stan or hater, you have to admit he's had a profound impact on Western culture, and that his works are (cough) fully in the public domain, so let's see your 2-page, black-and-white Shakespeare comics!
Tiny adaptation? Illustrated sonnet? Cluster of Shakespearean gag strips? Personal comics essay on why he's the worst?? Loosely-related formalist experiment??? We want to see them all! NOTE: it's in your best interest not to submit straight adaptations of the best-known bits of his work since we're unlikely to select the same text twice. We recommend digging a little deeper than "to be or not to be", or spinning it a little farther out. Give yourself a challenge!
SUBMISSION REQUIREMENTS AND APPLICANT ELIGIBILITY
Two size formats are valid for submission:

Two separate pages of work, which, if selected, will be printed on facing pages at 6″ x 6″ each.
A single 2-page spread of work, which, if selected, will be printed across facing pages in the form of a single 13″ x 6″ image.

Each submission will be printed on facing pages in black-and-white and/or grayscale.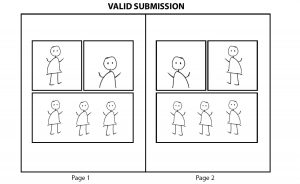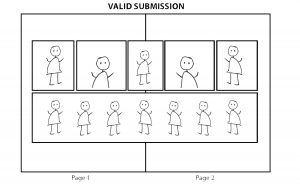 Traditional and digitally-created works are welcome.
Applicants under the age of 18 years must have express permission to participate by a parent or legal guardian.
Submitted works must be the sole property of the applicant(s).
For collaborative works, each contributing party must apply, but the work will be considered as a single submission.
Applicants are NOT required to be members of the Triangle Comics Creator Network.
NOT ALL SUBMISSIONS WILL BE SELECTED FOR PUBLICATION.
SUBMISSION RECOMMENDATIONS
Original artwork should be created at print size or larger but must be in proportion to the print size.
For digital submissions, 300 DPI/PPI/LPI is the ideal resolution.
Because the final publication will be printed in black-and-white and grayscale, it is recommended that submissions are black-and-white or grayscale as well. Color submissions are allowed but reproduction quality cannot be guaranteed and may be a factor in the selection process.
Title and creator information will be printed on the page outside of the 6″ x 6″ artwork areas whether or not this information is included in the artwork itself.
Because this anthology is intended as a showcase of Triangle-based creators in 2020, we encourage submissions to be new or recently-created works.
So that all participants can reach the widest possible audience, all submissions should keep to an approximate "G" or "PG" rating.
We will make every effort to reproduce the artwork faithfully, but differences between original and reproduced artwork may occur.
SELECTION AND PUBLICATION INFORMATION
Submissions will be selected by a group of editors, and NOT ALL SUBMISSIONS WILL BE INCLUDED IN THE FINAL PUBLICATION.
Artists who submit work will be notified whether they are selected prior to the publication's initial release at Zine Machine 2020 (October of 2020; more info at zinemachinefest.com), pending announcement Zine Machine 2020 plans in re: COVID-19 concerns.
Copyright of all submitted works, whether or not they are included in the final publication, will be held by their respective creators. Copyright of the collection (but not its constituent works) will be held by Durham County Library. This information will be clearly indicated within the publication.
Selected works may be used to publicize the collection in print and online venues.
Selected contributors will receive 2 copies of the finished publication.
Pricing and sales info TBD.
HOW TO SUBMIT
Original artwork may be dropped off in person at Durham County's Southwest Regional Library (3605 Shannon Rd. in Durham). For hours of operation, visit durhamcountylibrary.org or call 919-560-8590. We will coordinate with you to return your artwork as soon as possible after scanning. Applicants submitting physical artwork must fill out a submission form when dropping off artwork, or may download this PDF to fill out beforehand. In-person dropoff is on hiatus until Durham County Library reopens, date TBD.
Scans and digital art must be submitted in the form below; see form for technical details.
QUESTIONS
For questions about submissions or anything else related to the TCCN Comics Anthology, contact Patrick Holt at 919-560-8648 or pdholt@dconc.gov.
ONLINE SUBMISSION FORM