TCCN Comics Anthology
The TCCN Comics Anthology was a publication designed to showcase comics made by creators of all ages and experience levels who live in and around Durham, Orange, and Wake Counties.  While future volumes are possible, the Triangle Comics Creator Network itself is paused due to the departure of organizer Patrick Holt from the Durham County Library system.  Any announcements about future volumes will be posted here.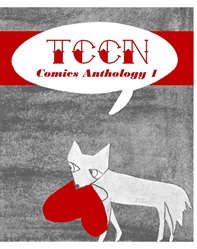 Thank you to the contributors, editors, and many other supporters who made TCCN Comics Anthology 1 a success! Sales are temporarily on hiatus; inquiries may be directed to Patrick Holt at pdholt@dconc.gov.