Looking for photos of Durham Comics Fest? Click here!
---
Downloads
Durham Comics Fest coloring sheet for your young comics readers! (pdf)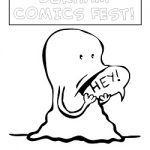 Jen Wang's instructions for folding and cutting tiny, tiny comics (pdf)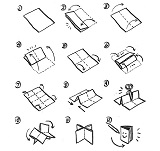 ---
Activity Slideshow
"What happens next?" from Durham Comics Fest 2018
Designed by Jarrod Johnson and drawn by Patrick Holt, this activity let DCF 2018 visitors create the best punchline they could come up with.
Download this pdf
and create your own!

---
Videos
Durham Comics Fest Organizer Patrick Holt on how to make and share Tiny, Tiny Comics
---
Video: Jadzia (née Jared) Axelrod on the many faces of Batman, 2014. (Video courtesy Jadzia Axelrod.)